Your personal shopper for the Paris Flea Market
Are you coming to Paris for tourism? Are you looking for furniture, works of art, decorative objects for your interior design projects? You don't know exactly where the old Paris flea market is or what time it opens? You need a personal shopper...
Philippe Mevel and Patrice Masson have created Flea Market Paris to guide you through this maze of streets and stores that today brings together more than 1,200 Parisian merchants divided between the Paul Bert Serpette market, Biron market, Malassis market, Vernaison market, Dauphine market, etc.
In addition, there are specialized antique galleries on Rive Gauche et Rive Droite, as well as design and contemporary art galleries.
They have access to all these dealers and know them all personally. Book a visit to discover the Parisian antique dealers !
15 years of expertise at the service of decorators, collectors and art and antique lovers
Known by all the dealers, Philippe Mevel has accompanied more than 200 clients since 2001 in the most beautiful places of the capital and in the most prestigious dealers of the Parisian market. He is a famous personal shopper.
Numerous public figures such as Coca-Cola, Four Paws, Tom Morgan Inc, members of the Kennedy family and decorators renowned for their work are among his most regular clients.
With discretion and according to your interests, FleaMarket personal shopper plans your appointments with the best antique dealers and designers in Paris and advises you to find, select, choose and negotiate at the best price the objects that will sublimate your apartments, villas, lofts, hotels, restaurants or offices.
And when the rhythm of the auctions is right, we can open the doors of the sales and, if necessary, bid for you.
Whether you are looking for antiques and decorative furniture of the Renaissance Style, Louis XIV Style, Louis XV Style, Louis XVI Style, Empire Style or Napoleon III Style, our advice and our knowledge of the history of furniture and works of art guarantee a clear authentication of the pieces and a transparent follow-up of your purchases from the negotiation of the price, the payment and the organization of the delivery door to door.
Your personal shopper for an access to confidential pieces
You search, we find! This is the motto of FleaMarket.Paris. It affirms our know-how in sourcing rare items. It has many times allowed us to open the doors of the most secret places and spaces to allow you to discover and choose goods from the flea market reserves that are only presented to great collectors and decorators.
It is then the paradise of exceptional furniture, chests of drawers, consoles, desks stamped by the great master cabinet makers, the great master glass makers or the great master bronze makers from the 17th to the 20th century and which have made the fame and the secular success of the French masters of art.
From then on, it is possible to find precious wood furniture signed by Jacob, furniture from royal residences, a piece of furniture by Charlotte Perriand or a unique piece by a contemporary designer. It is the same for works of art for which we can intervene as art brokers.
Partnerships with transporters
Transportation is a key point of your acquisition of furniture and objects that you may have found in Paris. Whether you live in the United States, Australia or India, we know all the ins and outs of transportation. 
To meet your expectations, we have established close ties with companies dedicated to transportation. A good transport is first of all the packing, the crating and the insurance of door to door shipments.
We are used to shipping processes and can negotiate, organize and guarantee the transportation of your objects. For this purpose, a tool for calculating shipping costs has been made available to you by one of our partners.
 
The digitalization of concierge services in personal shopping
Guaranteeing a permanent link with our customers means offering you the possibility of preparing your visit and pre-selecting objects thanks to our weekly selections and our personalized newsletters.
But beyond your visit, it is also to keep a link allowing you to continue your purchases according to your needs and to use our filtering tools by types of objects, by dimensions or even by price.
And to finalize your discovery of the object, your personal shopper can organize a live video session...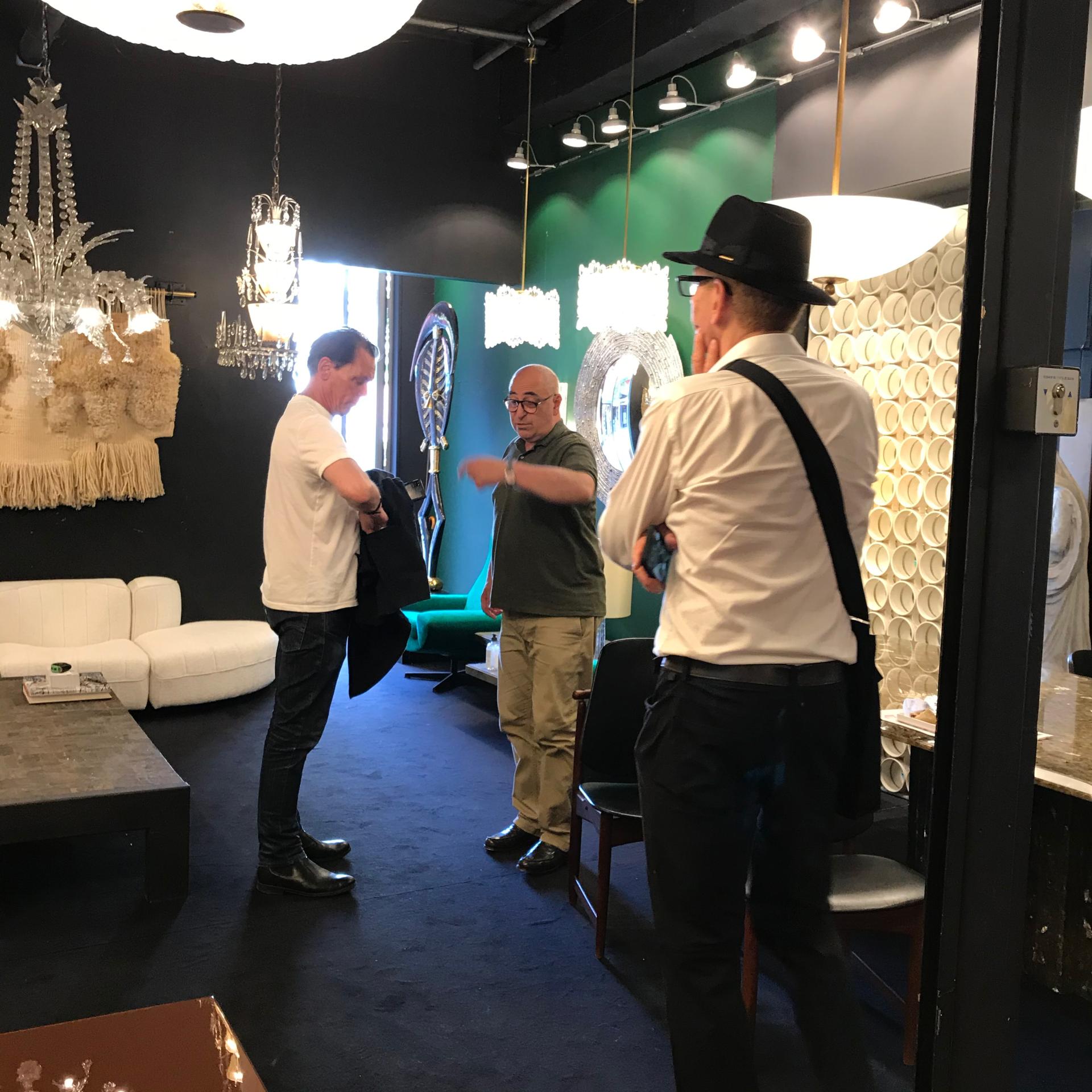 © Fleamarket.paris
Kevin Grey at old flea market in Paris with his personal shopper from the FleaMarket team